Products

› PVC Strip Curtains
PVC Strip Curtains
Shiv Plastic Industries established in the year 1978 are now become India's leading manufacturers and exporters of industrial PVC strip Curtains. These are used for conveyor opening curtains or as a total sought barrier between areas. Our PVC Strip Curtains are designed for heavy duty internal and external use. our products are manufactured using optimal quality raw materials. With a dedicated team of professionals, we are capable of offering these rolls as per client's requirements. Which helps in preventing commercial food areas from pests and insects and maintain humidity?

These curtains have good transparency. Stops the loss of cold air or warm air effectively and helps in preventing the penetration of dust and ultraviolet rays. These are designed for saving energy, protect workers, and reduce noise in factory and warehouse or other applications. These are appropriate for the separation of small and large spaces, in addition to this, these provide ideal visibility.
We highly recommend using the smooth surface to meet the requirements of nice look, easy clear for different application place.

| | | | |
| --- | --- | --- | --- |
| Anti Insect PVC Strip Roll | PVC Strip Roll Clear Blue | PVC Strip Roll Double Ribbed | PVC Clear Strip Roll |
Why P.V.C. Strip Curtains : -
We are one of the leading suppliers and exporters of best quality PVC Strip Curtains, PVC Curtain, Industrial Curtain, PVC Strip Door, Strip Door, Flex PVC Door, Mounting Hardware, Ribbed Curtain and Welding Curtain etc.
Features and Advantages : -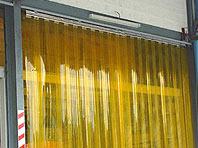 PVC Strip Curtains save energy and reduces heat or cold air loss.
PVC Strip Curtains protects from dust, fumes, noise, pests, spray, dirt, smoke, fumes and keeps the atmosphere hygiene.
PVC Strip Curtains are best solution for places where Unlimited access by vehicles and Pedestrians. they are also fully transparent that help provide maximum visibility.
Our PVC strips curtains are available in various choices of grades depending on application (Commercial/ Residential/ Industrial)
Maintenance free, requires only occasional wash & Zero maintenance, Improve working environment.
Applications:-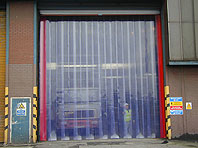 Automobile / Engineering / Textile Industry
Pharmaceuticals.
Food / Meat processing Units.
Cold Storages / Freezer Rooms / Ice Cream Unit
Hotels / Shop / Mall / Kitchens.
Airports / Bus Stands / Railway Stations.
Welding Bays.
Factory / Ware House Stores.
Printing & Publishing Units.
Specifications:-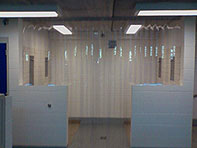 Normal grade
200 X 2 mm for doors under 2 Meters height.
200 X 3 mm for 2 / 3 Meters high doors.
400 X 3 mm for doors over 3 Meters high.
200 X 5 mm for high air - pressure areas.
Super Cold Store grade
200 X 2 mm can with stand upto - 35 degree C, for ice - cream freezers and hotel cold rooms.
Buffer strips
300 X 3 mm for normal abrasion.
200 X 2 mm for high abrasion.
Welding grade
300 X 2 mm to cover welding areas